V Tech SMT reflects on a record year and tells us why cobots are so special
With the aim of supplying the rapidly growing UK electronics industry, Ronnie Hetman and two peers set up V Tech SMT (V Tech) in 1997. IBM, Compact, Hewlett Packard, Motorola – all these huge technology players were scaling up operations across England and Scotland at the time, and capable, trusted electronics suppliers were in high demand.
As Ronnie aptly points out, many of these companies have since moved on, establishing operations in more cost-efficient territories overseas. But V Tech remains here – and it's still going strong. Indeed, since 1997, the business has grown year-on-year with balance sheets firmly in the positive. Accredited to ISO 9001 and 14001, V Tech specializes in the supply and worldwide distribution of equipment and consumables to the electronic assembly industry.
Specialist adhesives, UV curing, underfill, SMT adhesive, electronic kits, silicones, JBC soldering equipment and accessories, fume extraction, lasers, 3D printing, Kolver torque drivers, Vision inspection equipment, various production consumables – the product portfolio at V Tech is extensive. Even that feels like an understatement. Services also include downpacking, repair work, site visits, demonstrations, product trials, and vendor managed inventory.
"We finished 2022 with record numbers," Ronnie reveals. "The reason behind this is probably taking on new products, as well as expanding into new, previously untapped markets. We like to think of ourselves as a one-stop shop for everything. One of our biggest accounts is Honeywell, and there is only one in Scotland, but they have given us access to look after other Honeywell site in the UK, which is definitely a broad one – from aircraft equipment and non-consumables to repair and workshop services. Yet, looking back over the last 25 years or so, there have been no key milestones to speak of – just lots of hard work."
One-stop shop

Naturally, the backbone of all that hard work has been built by V Tech's people. "All our employees have been here for quite some time," says Ronnie. "The company is made by its people, not the directors. I think it's a really good culture. People have always come to us after joining and said it's not like this anywhere else!
"It's also important to point out that I'm not the boss; instead, our boss is the customer and our entire workforce believes in that," he goes on. "If an employee has a job to finish, usually they will stay after work and get it done."
Picking up on Ronnie's assessment of V Tech as a one-stop shop, we are eager to find out a bit more about what goes into the business and how it aims to deliver multiple services and products to customers, thus creating a holistic and diverse offering for its range of clients.
"At V Tech, our main product line is specialist adhesives," Ronnie details. "Which have to be stored at -40C or have very long lead times which we manage for our customers, so we are dealing with sophisticated products. Within the electronics space, this is becoming an increasingly diverse line, and we intend to capitalize on that.
"Moving on, we then supply everything that goes on a bench to manufacture or repair a printed circuit board," he adds. "So, that means we are supplying the benches, microscopes, fume extraction, tools, soldering equipment, inspection equipment, as well as anything else that a client will need to carry out an array of circuit board manufacturing processes.
"Furthermore, we have our very own bespoke tool room that can make jigs and fixtures with a quick turnaround time. So, for instance, if someone wants a jig or a fixture, then we can produce one in as little as three days; whereas many other companies can take as long as four weeks to carry out the same task."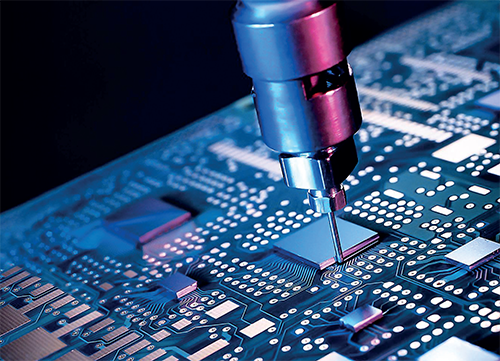 Cobots and robots

For Ronnie, another important aspect that sets V Tech apart from the competition is the company's acute focus on customer service and aftersales support. "Our customers know that they can call us at any time," he says. "Rather than using up to 20 different companies, our partners understand that they can rely on us to do it all under the one roof.
"Another unique selling point for the company is our appropriation of cutting-edge technology," Ronnie continues. "We sell cobots and robots, but we don't just supply them; rather, we will specifically configure the units to do exactly what the client wants. That means we always have software engineers on hand to integrate a cobot, which, for those that don't know, is a unit that can work with no guarding on a bench alongside a human."
"With these machines, you can carefully and accurately lay down an adhesive onto a board. It is a very fine and delicate process; tiny amounts are dotted along the board, and these dots are so small that they are hard to see with the human eye. These cobots can be quickly reengineered to do other sophisticated tasks such as soldering, screwing, encapsulation, handling and many more things"
Growth trajectory

As Ronnie goes on to explain, to promote full traceability, V Tech ships out all its technology with a unique barcode on every internal part (as well as the overall boxed shipment). The purpose of these individual barcodes is to ensure that customers, after scanning the item, can access a wealth of information, including how the part integrates within its wider system, its expiry date, and its storage instructions (for instance, it might have to be kept above/below a certain temperature).
Entering 2023 off the back of a record year is a motivating time for V Tech, and Ronnie remains very optimistic despite the news that often clamors through our media devices. "We have recognized the trends: people are negative; things aren't going well," he concludes. "It is very difficult, but we now have more staff than ever, the phone is ringing more, and increasing numbers of orders are coming in. So, though Britain is going to get hit somewhere along the line this year, we are proudly bucking the trend. Looking ahead, we want to accrue more and more new customers and continue on our growth trajectory."
Information in this blog is taken from the Manufacturing Today Article.